French Bulldog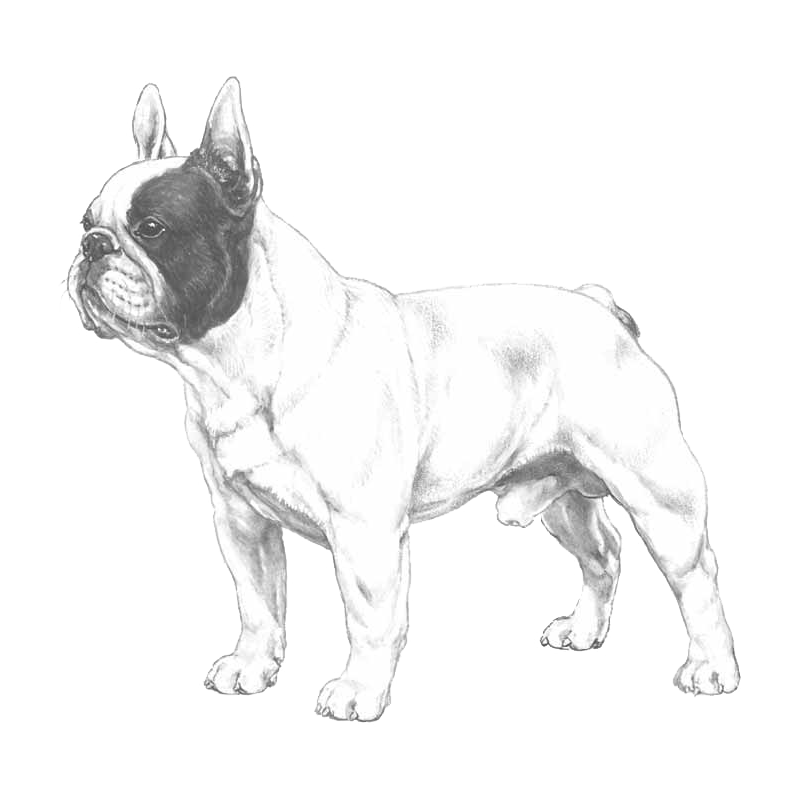 ---
---

Brief Description:

 

The French Bulldog is a small breed of domestic dog. "Frenchies" were the result in the 1800s of a cross between bulldog ancestors imported from England and local ratters in Paris (France).

---

Links to Breed Descriptions:

 

Judging the French Bulldog (AKC -- Illustrated Breed Standard)

 

AKC Video (link - https://youtu.be/P7rIdO1txwU

View more videos on AKC's YouTube Channel: https://www.youtube.com/user/AmericanKennelClub

 

 

SCC Video (link - https://youtu.be/tazcnw7rFoQ

View more videos on SCC's YouTube Channel: https://www.youtube.com/channel/UCKR90_uWp8dUNpGTfQ_y_Zw

 

 

 

---

Other Names for Breed:

 

Fransk Bulldogg
Bouledogue Francais
Bulldog Francés
Französiche Bulldogge
Ranskanbulldoggi

---

Country of Origin and Parent Breed Club:

 

France - Club du Bouledogue Francais: www.cbf-asso.org

---

Health and Well-Being:

 

Some sources of health information include:
National kennel clubs and breed clubs (see, e.g. Breeding/Health Strategy Documents, below)
Population-level statistics (see, e.g., Swedish Insurance Data, below)
Research articles
Breed club surveys
---
Breed Standards:
There are numerous breed standards.
The basis of breed/conformation shows is the judging of pedigree dogs against the 'Breed Standard', which is a picture in words that describes the range of features that are deemed appropriate for the breed.
Three of the major international standards are:
---
Breed-Specific Statistics:
1. Swedish Insurance Data
Breed-specific information on rates of disease and death from Agria Pet Insurance (Agria Djurförsäkring) is available for many breeds.
2. Finland: JTO: http://www.suomenranskanbulldogit.fi/jalostus-ja-terveys/jalostus/jalostuksen-tavoiteohjelma/
3. 4th International Dog Health Workshop Poster
UK: Making the Most of Public Data: French Bulldogs in 2018
Authors: Cassandra Smith
Data...594 Standard Colour Litters and 6,711 Colour Not Recognised (CNR) Litters
Litter size
Age at breeding
DNA testing
Popular sires
Health Scheme
Cesarean Section
Full Report... Cruffa file 
(Internal) French Bulldog Breed Records 2018
---
Breeding/Health Strategy Documents:
Health/Breeding Strategy Documents and Links:
The Kennel Club, UK: Breed Watch
Excerpt: "French Bulldog (Bouledogue francais) - brachycephalic and small molossoïd breed
The special conformation of this breed with shortened skull and overly short bridge of nose as well as underdeveloped tail, cause health problems if exaggerated further.
Areas of risk are:
Breathing: Problems which could result from overly short muzzle as well as pinched nostrils, insufficient room foremost in throat, pharyngeal cavities and/or ribcage.
Face: Too short muzzle and protruding eyes which increase the risk of eye injuries.
          Proportions and construction: Overly short proportions in neck and back as well as insufficient angulation in fore and hindquarters can       cause powerless dragging movement.
Underdeveloped tail : Lack of visible/touchable tail vertebrae is a disqualifying fault.
Skin problems.
Look for sound breathing, correct bridge of nose, eyes, skin, tail and movement. Breed standard reads; "Length of muzzle about 1/6 of the total length of the head".
Gait should be free and active. The breed standard calls for an "active" dog which is "powerful for its small size, short, compact in all its proportions", but the French Bulldog must not be excessively short in neck and back."
     9. UK: The Kennel Club: Breed Population Analyses: Recognising the importance of managing the rate of inbreeding, the Kennel Club's Population analysis reports allow breeders to review the unique situation for each breed.
    10. Club du Bouledogue Français -- CBF ACTION FOR THE HEALTH AND WELL-BEING OF THE FRENCH BULLDOG -- CURRENT SITUATION AND PROSPECTS
    11. a. FBDCA2017 HEALTH ED SEMINAR
French Bulldog Genetics: Brain Tumors, Spinal Malformations and Disk Disease
Speaker: Dr. Danika Bannasch, DVM, PhD
11. b. FBDCA 2018 HEALTH ED SEMINAR
The FBDCA 2018 Health ED Seminar was presented by IPFD CEO, Dr. Brenda Bonnett.
See a description in her blog: French Bulldog Health Seminar October 2018
---
Breed-Specific DNA Tests:
The Kennel Club list of DNA tests available for each breed along with an indication as to whether the test is part of the Assured Breeder Scheme (recommended or required) and whether it is recorded on the Kennel Club registration database. http://www.dogwellnet.com/content/health-and-breeding/screening-tests/dna/dna-tests-for-use-in-breeding-decisions/the-kennel-club-breed-specific-dna-tests-upd-r234
---
Breed-Specific Articles:
Articles on DogWellNet that address the specific breed's health, welfare, issues, and conditions:
French Bulldog Breed Watch Report
IKFB - Interview - German International Club for French Bulldogs
French Bulldog - The Kennel Club - Dog Health Group Annual Report 2013
Bullies, Pugs and Bulldogs – The Current Top Runners
"We are the nerds" Dr. Anne Posthoff, the president of the German International Club for French Bulldogs, explains why the rules for breeding French Bulldogs in Germany are among the strictest in the world.
Club du Bouledogue Français CBF ACTION FOR THE HEALTH AND WELL-BEING OF THE FRENCH BULLDOG -- CURRENT SITUATION AND PROSPECTS
---
Other Breed-Specific Webpages:
The French Bulldog Club of England:
The health information available includes reports, research studies as well as information on judging the French Bulldog
Talking about Tails - Penny-Rankin-Parsons
Some things with dogs are just fun!
From the Finnish French Bulldog Association's annual meeting was held in Seinäjoki 03.17.2019 page a delightful video.
---
Breed-Specific Research:
The French Bulldog Club of England's "Health News" section includes research information:
BRACHYCEPHALIC OBSTRUCTIVE AIRWAY SYNDROME RESEARCH PROGRAM: http://www.frenchbulldogclubofengland.org.uk/boas--spine-studies.html 
Health Improvement Strategy: "French Bulldog Club of England Health Improvement Strategy 2012" at: http://www.frenchbulldogclubofengland.org.uk/uploads/1/5/9/2/15927418/french_bulldog_club_of_england_health_improvement_strategy_2012.pdf
The Universities Federation for Animal Welfare (UFAW): French Bulldog: Hemivertebrae: http://www.ufaw.org.uk/HEMIVERTEBRAEFRENCHBULLDOGS.php
An information resource for prospective pet owners.
French Studies (in French): ÉTUDE ÉPIDÉMIOLOGIQUE DES ANOMALIES RADIOGRAPHIQUES DES VERTÈBRES THORACIQUES DU BOULEDOGUE FRANCAIS (Radiograpghic Anomolies of the thoracic vertebrae in French Bulldogs):
http://www.cbf-asso.org/txt/anomalies_vertebrales_these.pdf
https://youtu.be/dj9SaFY6XmE (please note: you will need to go to YouTube to view this video - [French])
4. UK: Non-invasive Respiratory Function Assessment in Brachycephalic Dogs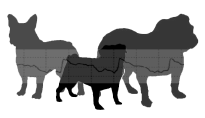 For further explanation of this research see the - Flyer
              owner- breeder participation options
Queen's Veterinary School Hospital
Department of Veterinary Medicine
University of Cambridge
    BOAS Research website: http://www.vet.cam.ac.uk/boas
5. Demography and disorders of the French Bulldog population under primary veterinary care in the UK in 2013
Dan G. O'Neill Email author, Lauren Baral, David B. Church, Dave C. Brodbelt and  Rowena M. A. Packer
Canine Genetics and Epidemiology
2018
5:3
Received: 16 February 2018 | Accepted: 19 March 2018 | Published: 3 May 2018
Quote

Conclusions

Ownership of French Bulldogs in the UK is rising steeply. This means that the disorder profiles reported in this study reflect a current young UK population and are likely to shift as this cohort ages. Otitis externa, diarrhoea and conjunctivitis were the most common disorders in French Bulldogs. Identification of health priorities based on VetCompass™ data can support evidence–based reforms to improve health and welfare within the breed.
6. Prevalence of neurological disorders in French bulldog: a retrospective study of 343 cases (2002 – 2016)
Vincent Mayousse 1,3,5* , Loïc Desquilbet 2 , Aurélien Jeandel 1,4 and Stéphane Blot 1,3,5
Mayousse et al. BMC Veterinary Research  (2017) 13:212
DOI 10.1186/s12917-017-1132-
---
Breed Clubs:
We are listing sites for breed clubs with health or other information that might be helpful. Follow links below.
Norway: Norsk Bulldog Klubb
Denmark: Bulldog-Klubben
Finland: Ranskanbulldogit ry
Sweden: Fransk Bulldogg Klubb Sverige
USA: French Bull Dog Club of America
Australia: Bulldog Club of NSW / French Bulldog Club of Victoria
Austria: Club für Französische Bulldoggen
Belgium: French Bulldog Club
Canada: Bulldog Fanciers of Canada
Czech Republic: Klub Francouzských buldocku Praha
England: Northern Counties French Bulldog Club / Bulldog Club of England
France: Le Club du Bouledogue Français / Cercle Européen du Bouledogue Français
Germany: Internationaler Klub für Französische Bulldoggen e.V. - IKFB
Italy: Club Bouledougue Francese
Netherlands: Bulldoggen Club HBC
Spain: Española para el Fomento de la Raza Bulldog Francés
Switzerland: Schweizerischer Klub für französische Bulldoggen
---
---
User Feedback